Economy Down, But Uniqlo Sales Up 17%
Everyday in the media there is more news about the sad state of the world economy – and news on how those economic problems are trashing the Japanese fashion world. From new flagship shops being to major department stores suffering poor sales, the reality is that 2009 will be a tough time to be in the fashion business.
But, all of the news isn't bad. Fashion hungry shoppers aren't going to stop buying fashion in a down economy – instead, they're going to try to find a way to get what they want for less. And who benefits from that? If you guessed Louis Vuitton, you guessed wrong. If you guessed Uniqlo, give yourself a pat on the back.
UT Harajuku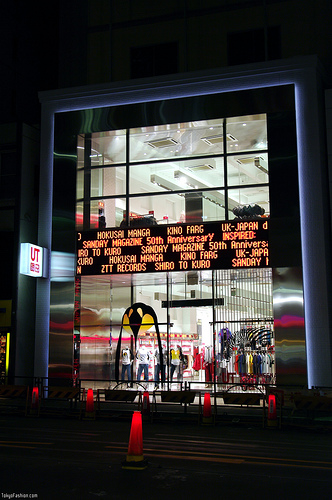 The latest report from Fast Retailing, the company that runs Uniqlo, is actually very good. The Japan Times reports:
For the first quarter of the business year, Fast Reailing logged ¥22.17 billion in net profit, up 43.6 percent from a year earlier. Its operating profit rose 45.6 percent to ¥40.94 billion on sales of ¥188.51 billion, up 17.5 percent. The company attributed the showing to robust sales of autumn and winter clothing at its Uniqlo stores in Japan.
Sales at Uniqlo stores in China and the United States are both up as well, helping the company to report higher than expected sales and profits across the board.
So, while the high end of Japanese and international fashion is getting hit hard right now, the companies who offer more affordable fashion that's still hip enough for cash strap fashionistas, are picking up some new customers.